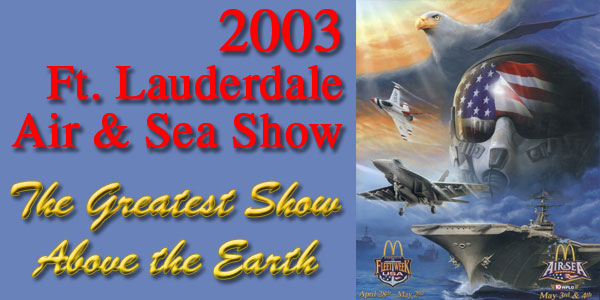 This year's Ft. Lauderdale Air & Sea Show, a National Salute to the U.S. Military, drew an estimated 4.9 million people and 10,000 boats. Fleet Week was held from April 28th to May 2nd and the air show took place May 3rd and 4th (for those of you wondering when the next air show will take place, it is usually held during the first weekend in May). Show center was located at A1A and Sunrise Blvd. with restricted airspace within a 5 mile radius. The Showbox was 2 miles long by 4,000 ft. wide with an air control tower set-up on the beach.

In addition to my own photos, Douglas F. Cali also contributed photos taken with his Olympus 550D digital camera. The 550D's optical zoom really makes a difference for capturing those close fly-bys... thank you Douglas.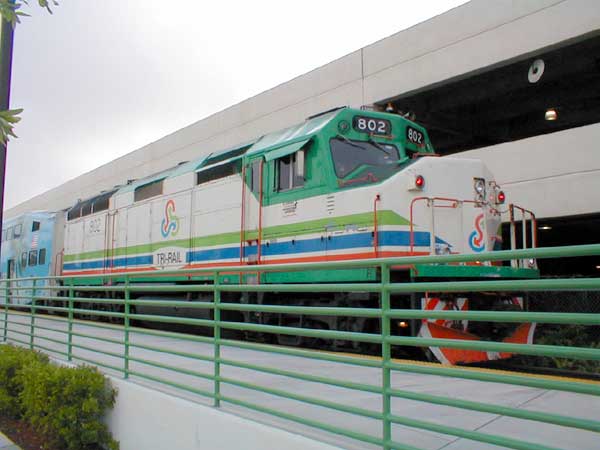 Getting to the air show from Miami is always half the fun. This year rather than driving up to Ft. Lauderdale and taking the shuttle bus from Holiday Park, we took the Tri-Rail train. Round trip from the Miami International Airport depot to Ft. Lauderdale only cost $4.00 per person and included shuttle bus transportation to show center... not a bad deal.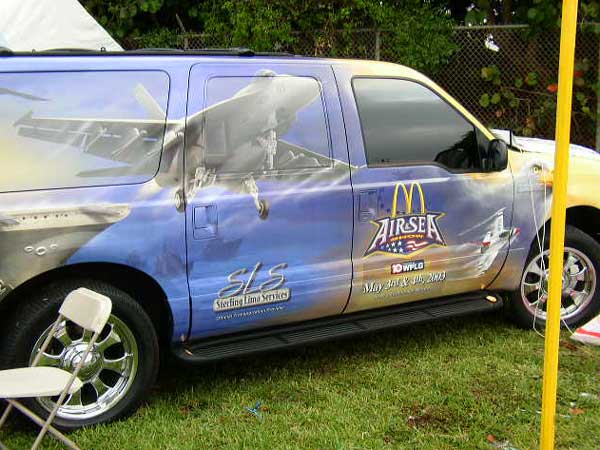 Of course if you want to arrive in style you could always use Sterling Limo Services, complete witha slick air show mural. - Photo (c) 2003 by Douglas F. Cali
You always know when you're getting close to show center when you see the Goodyear Blimp Stars & Stripes floating in the sky. The GZ (Goodyear Zeppelin) 20A is 192 feet long, 59.5 feet tall and 50 feet wide. Stars & Stripes actually put on a bit of a show consisting of steep (for a blimp) climbs and dives.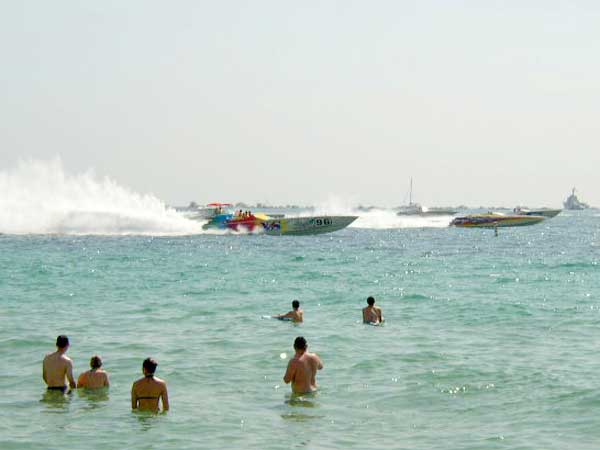 The Florida Powerboat Club staged a high-speed Performance Boating Exhibition showcasing Apache, Black Thunder, Cigarette, Donzi, Fountain, Nor-Tech and Sonic USA watercraft. - Photo (c) 2003 by Douglas F. Cali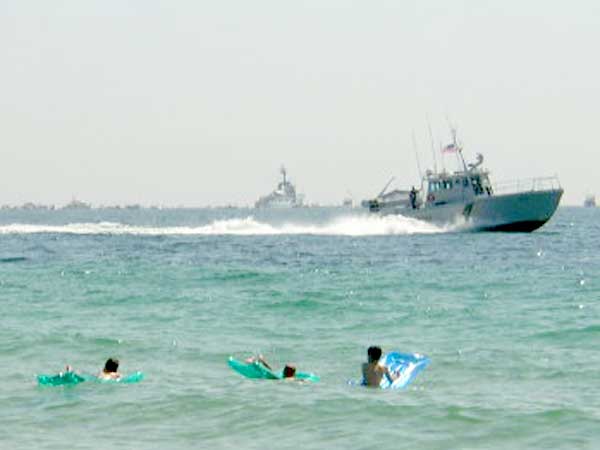 Coast Guard, Florida Marine Patrol and Police boats also patroled the waters just off shore. - Photo (c) 2003 by Douglas F. Cali
PT Boat 728 is the only operational WWII PT Boat in military configuration in the world today. Normally operating out of Key West, FL, she is the official "Gunboat of the Conch Republic," conducting nightly high-speed torpedo runs on "pirate ships" (usually a local schooner). Visitors to Key West can sign-up for a cruise at the Schooner Wharf Bar Docks.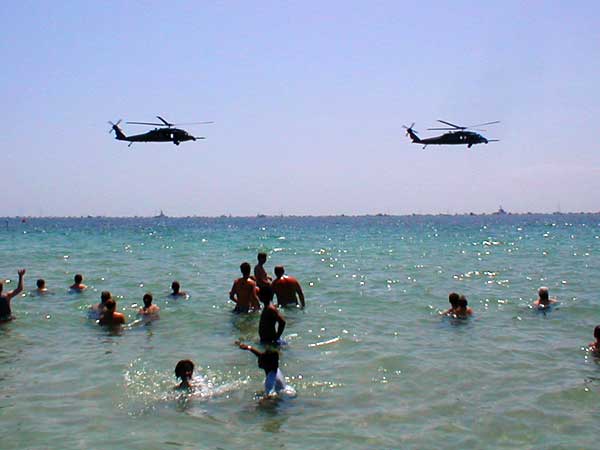 HH60-G Pavehawks from the 920th Rescue Wing, Patrick AFB, FL, orbit offshore during a demonstration of combat search and rescue. During Operation Iraqi Freedom, the 920th's 17 rescues were the most of any unit serving in the war. Along with the rescues, the 920th also dropped candy to Iraqi children.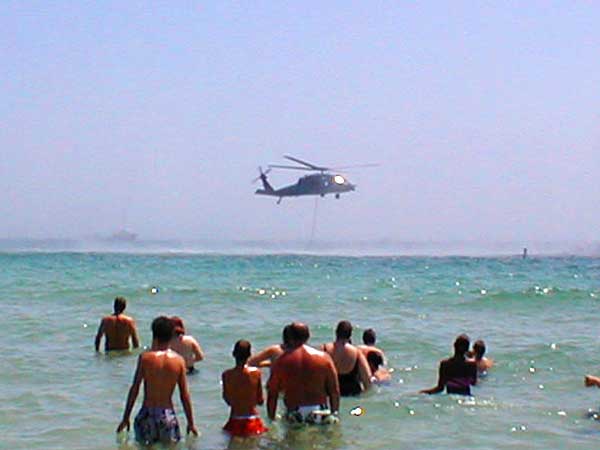 USAF Pararescue team repels from a Pavehawk in a simulated rescue of a downed pilot.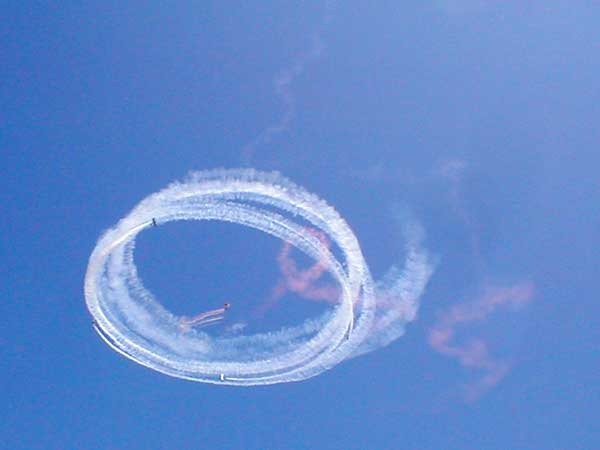 As the National Anthem plays over the loudspeakers, a Golden Knight parachutes from the blue sky while members of the Red Baron Pizza Squadron circle around, marking the official beginning of "The Greatest Show Above The Earth." Both the U.S. and Canadian flags where flown in a salute to the U.S. Military and the Canadian Snowbirds.
The Golden Knights, members of the U.S. Army Parachute Team, decend in formation and make pinpoint landings on the beach. The jumpers leave the aircraft at about 12,500 feet and fall at 120 m.p.h. before deploying their chutes. If I'm not mistaken, the Knights have opened every air show in Fr. Lauderdale.
Kirby Chambliss, the U.S. National Aerobic Champion, is making a major come-back in his career after being seriously injured in China last year when a mechanical failure caused him to crash.
Chambliss enjoys taking his Edge 540 monoplane down on the deck...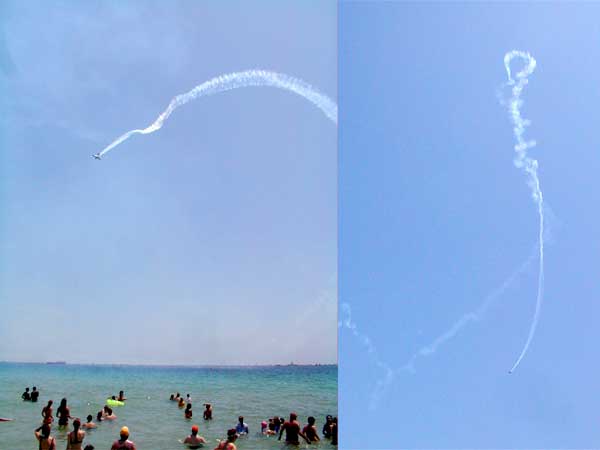 ...and then back into the blue where he shows why he is a champion acrobatic performer.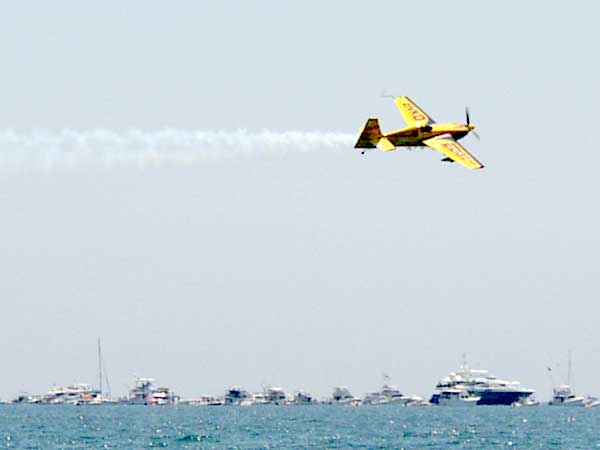 Chambliss will be the captain of the U.S. team at the 2003 World Aerobatic Championship in Lakeland, Florida... good luck, Kirby! - Photo (c) 2003 by Douglas F. Cali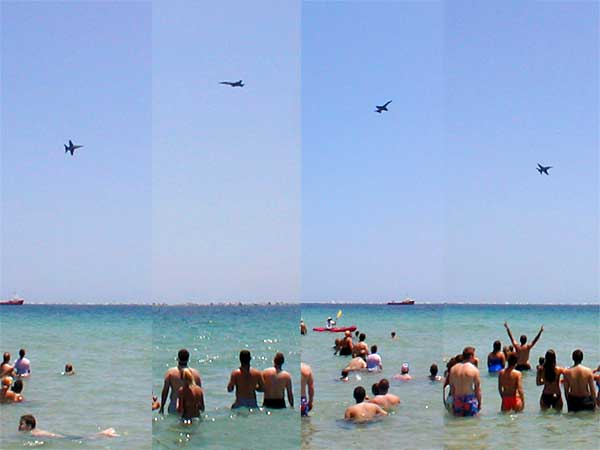 The U.S. Navy's F/A-18 Hornet performed a number of fly-bys and aerobatic manvuers.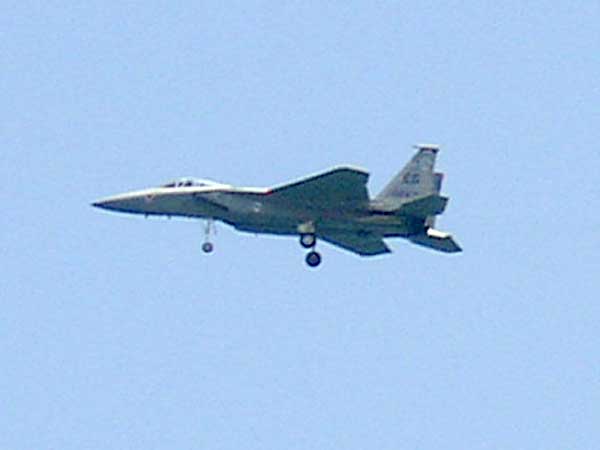 The crowd got a good look at the Hornet as it made a slow speed "carrier" pass along the shoreline. - Photo (c) 2003 by Douglas F. Cali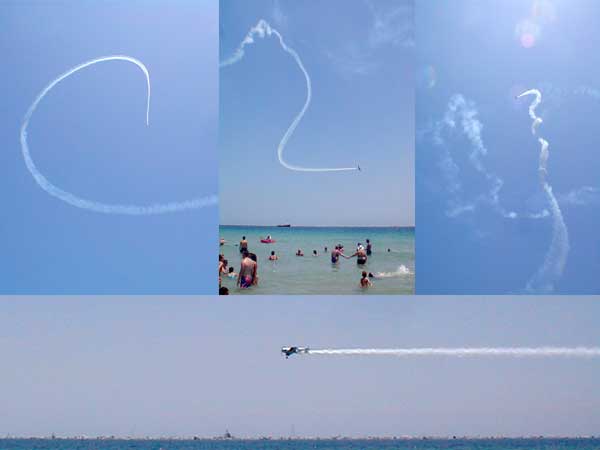 Ian "the G-Monster" Groom once again performed his signature Corkscrew manuvuer. He set new world records with 40 consecutive snap rolls at the 2001 airshow and 57 at last year's show. His Russian built SU-31 "Dark Dog" has a roll rate of 400 degrees per second and weighs under 1,600 lbs. with a 400 hp engine. Ian pulls from positive 10 Gs to negative 7... without wearing a g-suit or using a seat cushion (hence "the G-Monster") and there are nicks on the inside of his canopy where his helmet has hit it. Amoung my favorite manuvers to watch is a breathtaking 10 rotation flat spin, dropping about 3,000 ft.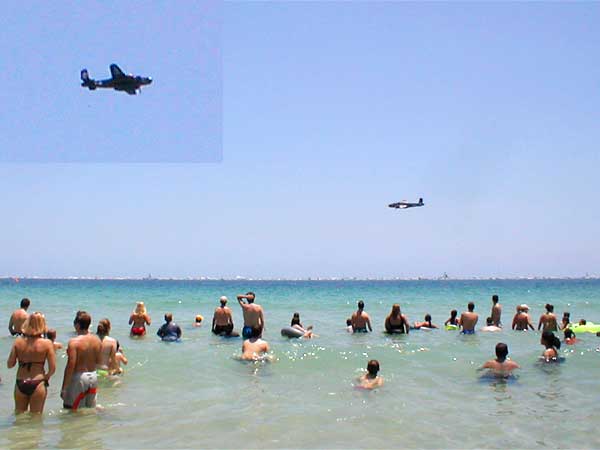 A vintage North American B-25J Mitchell Bomber restored by Kermit Week's Fantasy of Flight orgainization made several bombing runs past the crowd..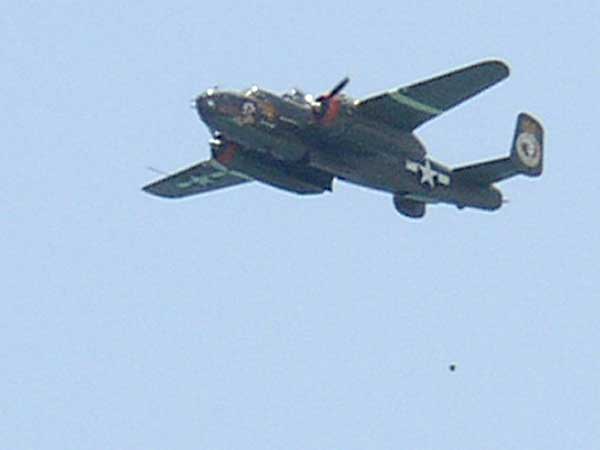 Here you can see one of the watermelon "bombs" being dropped from the Mitchell. - Photo (c) 2003 by Douglas F. Cali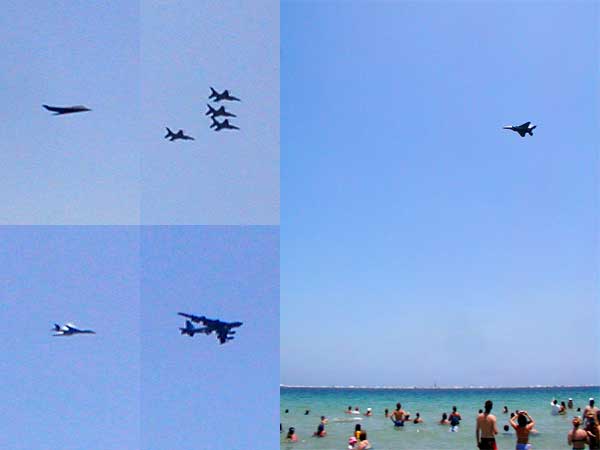 Flybys
F-117 Nighthawk Flew first sorte in Iraqi Freedom. Flew in from Hollowman AFB, Alamogordo, NM.
B-52 Stratofortress first deployed in 1955.
B-1B Lancer, the "Sexy Bomber" - Dyess AFB, Abilene TX, 1,511 miles to show. Each engine puts out 15,000 lbs of thrust, 30,000 with afterburners. Dropped two JDAM bombs on high-level Iraqi leadership meeting on 4/7/03.
F-15 Eagle from Eglin AFB in Valparaiso, FL, 638.9 miles. Performed high and low speed passes, rolls, loops, Cuban Eight and Emmelman.
F-117 Nighthawk - Photo (c) 2003 by Douglas F. Cali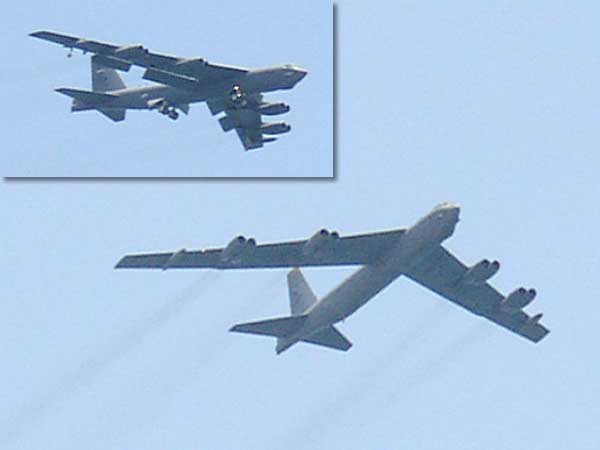 B-52 Stratofortress - Photo (c) 2003 by Douglas F. Cali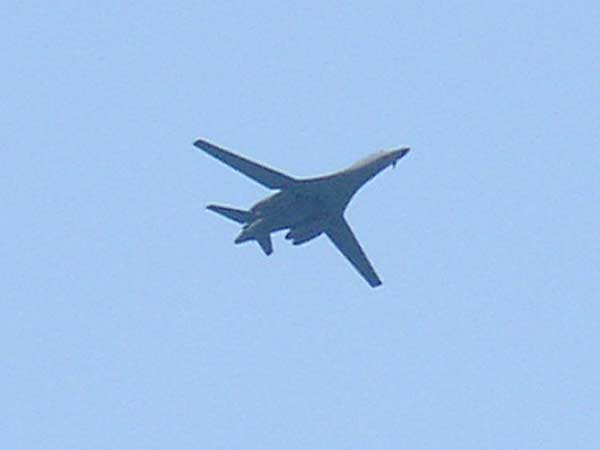 B-1B Lancer - Photo (c) 2003 by Douglas F. Cali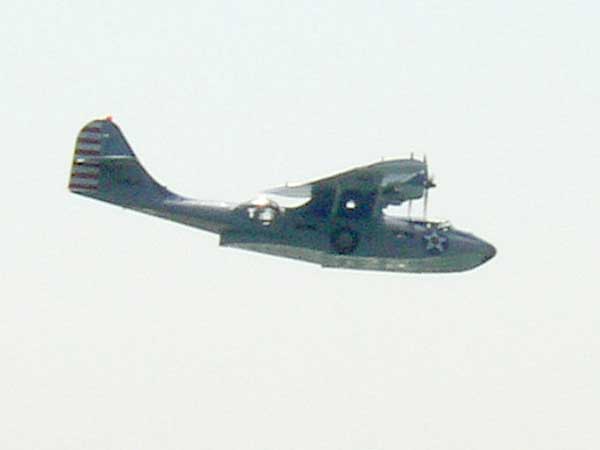 PBY Catalina - Photo (c) 2003 by Douglas F. Cali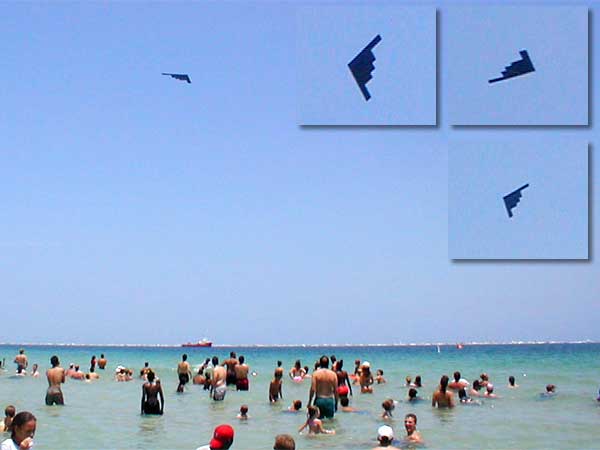 B-2 Spirit Pilot Jennifer Wilson is from Miami, FL. Longest mission ever flown by a bomber, 40 hours durning Operation Iraqi Freedom. On long missions a lawn chair is placed between the pilots' seats so one of the two crew members can rest. Flown out of Whiteman AFB, Missouri.
B-2 Spirit - Photo (c) 2003 by Douglas F. Cali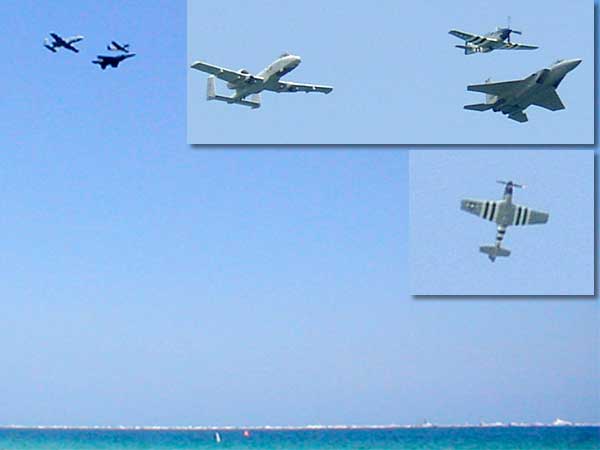 Heritage Flight: F-15, A-10 and P-51. Flies about a 100 airshows a year. - Photo (c) 2003 by Douglas F. Cali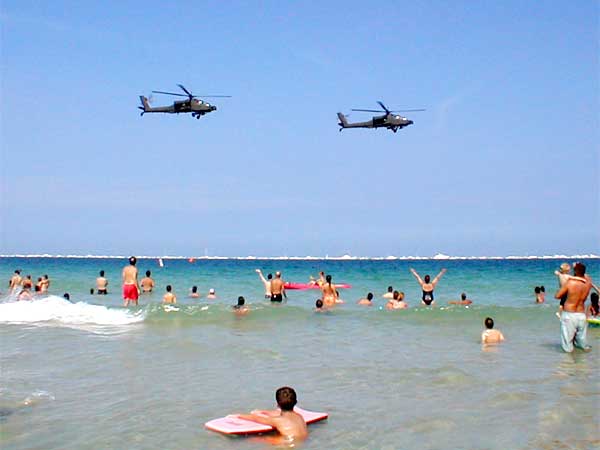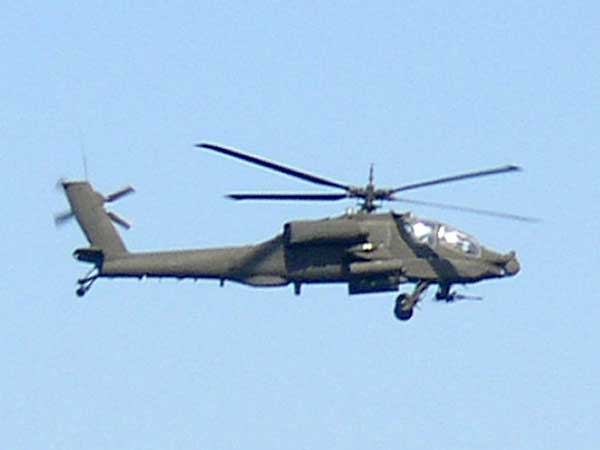 AH-64 Apache - Photo (c) 2003 by Douglas F. Cali
Sean D. Tucker flying Oracle Challenger. Has flown at more than 300 airshows in front of more than 60 million fans. Performed flat spin. Positive 12 Gs. Has ratchets on seat belts to keep him secured to seat. Flies a new maneuver crabbing the aircraft at 50 ft above the water. Harrier maneuver.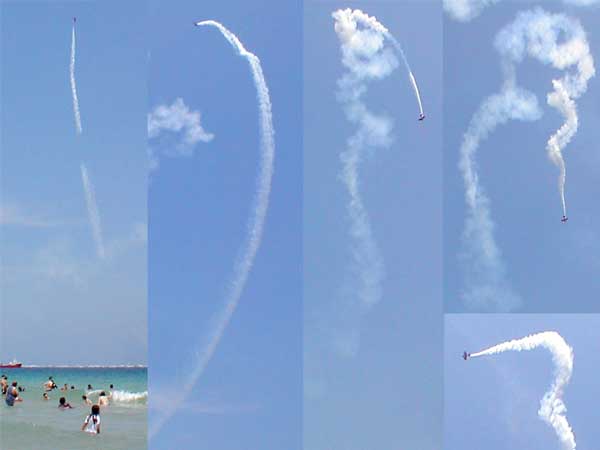 Click here for page two.

2002 Ft. Lauderdale Air & Sea Show Photos

2001 Ft. Lauderdale Air & Sea Show Photos

Photo Album Menu • Main Menu

2003 Ft. Lauderdale Air and Sea Show Photos
Copyright © 2003 by Thomas R. Pasawicz. All rights reserved.