Actually, I would never try to harm a dolphin. They are extraordinary creatures. If you've ever have the good fortune to be near one in the wild, then you know what I'm talking about. They may be more intelligent than we are.

Don't ask me "If they are so smart, how come they can't get out of a fish net?"
I'll just reply "Not one dolphin has ever been foolish enough to join AOL."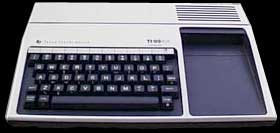 So what else do you want to know? I'm obviously into computers, have been for over 14 years. My first computer was a TI-99/4A with 16k of RAM. Used my TV as a monitor and an old cassette recorder for data storage. The only cartridge I owned was TI Extended BASIC. So, with the aid of a few "how to write computer games" books, I learned my first programming language.

Looking back, it is amazing how far we have come. Just the Waverunner GIF above is 67k, over four times larger than the TI's total memory.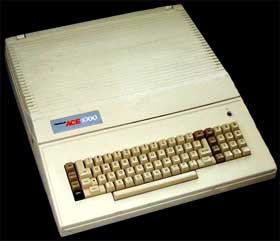 It didn't take long to outgrow the TI. My next computer was a Franklin ACE 1000, an Apple ][+ knock-off. And it had something the TI didn't, a modem! At first I only used it to dial-up F.I.U., where I was in the process of changing my major from Psychology to Computer Science. Then I discovered the local BBS scene. Woo hoo!

For those of you who are new to computerdom, BBS stands for Bulletin Board System, usually a home computer that can be dialed into and have public and private messages left on it for others to read. It was mostly a text based system, a good thing seeing as how modems were only 300 bps back then, that is over 177 times slower than the 53.3 kbps I'm connecting at these days (Update: I now have a 1.4 mbps ADSL connection which is 4,666 times faster than the old 300 bps modem. Updated again: Make that a 6 mbps ADSL connection, which is twenty thousand times faster than the old 300 bps modem.).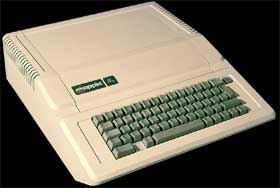 It wasn't long before I started writing my own BBS software and began to Sysop (System Operator) my own BBS along with my friend Trail Blazer (what ever happened to ya, buddy?). It was called Etcetera BBS and before long we had a pretty good group of regular users. One of the nice things about a local BBS is that we all lived in the same calling area and could get together about once a month for parties and picnics. I miss the face to face meetings that are rare on a worldwide system like the Internet.

I wonder what ever became of the old Etcetera and Night Owl crowd? If any of you surf into this site, please drop me a line and tell me how you are doing.


The ACE eventually gave way to an Apple ][e while at work I was using Macintosh computers, which served as my introduction to computer graphics. By the early 90s the Apple revolution was giving way to the PC revolution and I jumped ship to a 66 MHz 486 machine. A couple years later, that was replaced with a 180 MHz Pentium Pro (dubbed "Monster"), which in turn was replaced with a 1 GHz Pentium III on a Asus CUSL2 Mobo (aka "Matrix"). Today I use two networked custom built systems:

Primary System: "Odyssey"
Intel Core™ 2 Duo E6700 Dual-Core, 2.66GHz
eVGA nForce 680i SLI 775 A1 motherboard
Kingston HyperX 4GB (4 x 1GB) PC2-6400 DDR2 SDRAM DIMM
eVGA e-GeForce 8800 GTS Superclocked 576MHz, 640MB GDDR3
Seagate 400Gb Barracuda 7200.10 SATA II 300Mb/s hard drive
Seagate 500Gb Barracuda 7200.11 SATA II 3Gb/s hard drive
Lite-On SHD-16S1S Black 16x48x DVD-ROM Drive
Lite-On LH-20A1S Black 20x DVD±RW Dual-Layer Burner
Mitsumo 1.44MB 3.5" floppy disk drive
Antec Performance One P182 Black Mid-Tower Case
Thermaltake Toughpower 850W Power Supply
CyberPower 1500AVR UPS
Samsung SyncMaster 930B monitor
Antec 120mm TriCool Case Fan, Blue LED
Zalman CNPS7000B-AlCuLED Copper-Aluminum CPU Cooler, Blue LED
Saitek Eclipse II keyboard
Logitech VX Revolution Cordless Laser Mouse
MS Sidewinder Force Feedback 2 joystick
CH Products Flight Sim Yoke USB
CH Products Pro Pedals USB
NaturalPoint TrackIR 4:PRO w/ TrackClip PRO
Microsoft LifeCam VX-3000
Yamaha M-15 speakers and a YST-MSW5 subwoofer
Logitech ClearChat Pro USB headset
Netgear 5 Port 10/100 Desktop Switch
Netgear G Wireless Router
Westell WireSpeed Dual Connect DSL Modem
Canon PIXMA iP4000 Printer
Canon LiDE200 Color Image Scanner
Secondary System: "Darkstar"
Asus P4PE Motherboard (Intel® 845PE chipset, 533MHz FSB)
Intel Pentium 4 2.53GHz Socket 478
1.5 Gb RAM PC2700/DDR333 DIMM (PNY 512 Mb + Nanya 1 Gb)
NVIDIA GeForce4 Ti 4600 APG 128Mb Video card
Maxtor DiamondMax Plus 9 160Gb 7200RPM IDE Hard Drive
Maxtor DiamondMax Plus 10 250Gb 7200RPM IDE Hard Drive
Sony DDU1621 DVD-ROM Drive (CD 40x / DVD 16x)
Sony DRU-710A Dual DVD R/W Drive (CD 48x / DVD 16x)
1.44Mb floppy disk drive
Creative SB Live! Sound card
3Com EtherLink XL 10/100 PCI TX NIC
Broadcom NetXtreme Gigabit Ethernet
Enermax CS305 BlackAlum ATX w/window & Neon
Enermax 350W power supply
USR X2/V.90 modem
Samsung SyncMaster 932B monitor
Microsoft Wireless Optical Mouse 3000
Logitech Internet Keyboard
Considering how far things have come, I wonder what my system will be like in another 10 to 20 years? Will I be comparing it to this one and laughing at how archaic it is? Probably.

Profession wise, I have worked with computers (duh!) in real estate and graphic design and in 1997 began developing websites and Visual Basic programs for local businesses. Today I work exclusively on high-end commercial websites, specializing in PHP/SQL programming and Flash movie development. You can see some samples of my work and client feedback at http://trpwebdesign.com.

If you are interested in developing a website or PHP programming, please contact me! My fees are very reasonable, though they vary greatly depending on the size of the project, from about $250 for a small brochure type site to over $2,500 for a database driven website.



When not working or playing on the net, I enjoy snorkeling and fishing in the Florida Keys, backyard barbecues, watching football (Go Canes and Fins!) and generally just laughing with my amigos. I also used to go to Grateful Dead concerts before Jerry passed on, I really miss those. For amusement I have a dog that lives on my computer desktop named Cyber ('cause like his master, he's a horny little, um... dude. *smile*).

Well, that's about it for now. Hope you feel that you know me a little better. I love to meet new people and get to know them. Thanks for visiting my site and I hope to hear from you on the net. Happy surfin', my friend!



Return to the Main Menu.