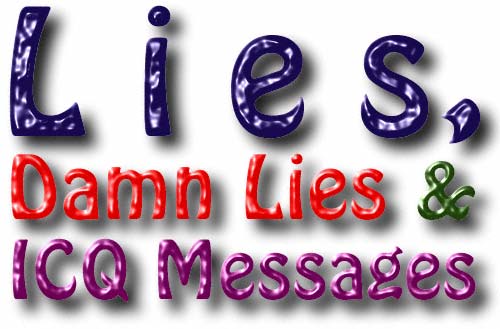 ICQ Rumors 111 - 120




ICQ Rumor #120

URL: http://www.icq.com/users/removesur.htm
URL Description: We are now in the process of removing all excess users, as we are aware many people have multiple accounts that they do not use.
Please forward to this to people on your list, so your account can be determined as active.
Thankyou,
ICQ Database Manager


These rumors (and you'll see many just like it here in the collection) are so ludicrous. It's like the Mathematics Department saying they are going to remove unused numbers... "Please solve some math problems so we can determine which numbers are still in use. Ah, 48239990 can go!"

Listen, if ICQ wanted to know which accounts were active, all they need to do is keep a log of all accounts that are accessed, there would be no need for the user to send a message, particularly a really stupid message with a fictitious URL. And just for the record, I have multiple accounts, some of which go months without being accessed, and they are all working just fine. (R120)




ICQ Rumor #119

Congratulations!
This is a system message.
There was an internal error on the server, so if you want to keep your UIN active then send your password twice.
Best Regards
ICQ Team.



Congratulations? What, did I win something? Ohhhhhh... now I get it, I won a fabulous opportunity to send my password to a UIN stealing moron! Woo hoo! Lucky me!

Now think about this lame excuse for social engineering for a moment. If there really was an "internal error on the server" then how could anyone log-on with their old passwords? And if the passwords still worked, why would the ICQ team need you to send it to them (twice)? The answers are: 1. An internal server error wouldn't lose passwords, the password data is backed-up and 2. No one from ICQ would ever ask you to send them your password (not even once). (R119)




ICQ Rumor #118

URL: ICQ is deleting everyone before the new year!
URL Description: Hi. Im Bill Mason from ICQ directory. Please forward this URL so your account stays activated in '01


Hi Bill, I'm Tom from ICQ Lies, please bite me. Errr... no, I didn't mean that, what I meant to say was: Hey Bill, why would you want to delete everyone before the new year? Did you make a New Year's resolution to piss off a hundred million or so people? I can't think of any other reason for deleting ICQ accounts other than that. BTW, being from the "ICQ directory" you do know the difference between a URL and a message, right?

Well of course he doesn't, because "Bill Mason" is not from the "ICQ directory," nor did any accounts get deleted in '01 for not forwarding a message. The same will be true in '02, '03, '04... well, you get the idea. (R118)




ICQ Rumor #117

URL: www.icq.com/delete.users/survey.html
URL Description: Please forward to your entire list, or we will remove you from our entire network as we are almost full.Thanksp


If someone forwarded this to me thinking it were true, I'd probably write back something like this: Due to its overwhelming popularity, the Internet is almost full. All clueless people are being asked to log-off immediately to make room for those less gullible folks who will make better use of the limited bandwidth. Prior to logging off, if you know of any other clueless people, please forward this message to them. If you are uncertain whether this message is intended for you, then I can assure you it is. Should you one day realize that the messages you've been forwarding are hoaxes, then you will be welcome to rejoin the Internet Community. Until then, try to amuse yourself with network television, unlike the Internet, it was intended for people who will believe anything. (R117)




ICQ Rumor #116

(Original version)

Dear user, disturbs you administration ICQ. Now there is a filtration all six digits of icq numbers. If you want to keep your icq number than reply your icq password twice.
Differently your icq numer will be unregistred !!!

Yours faithfully administration ICQ.


---

(New and "improved" version)

FROM: uin#: 81600288 nickname: System UIN

System UIN: Congratulations!

This is a system message!

Dear User, there is now a filtration of all six-digits UINs.

If you want to keep your UIN then or send twice your icq password to the admtous@icqmail.com

Otherwise your UIN will be unregistered!

Faithfully yours administration ICQ.


Low number UINs (especially in the six digit range) have become the "hot collectibles" of the script kiddie set. Only the original adopters of ICQ were assigned six digit UINs and some folks consider them to be status symbols... they have even been auctioned-off on eBay like Pokemon cards. So it's not surprising that the holders of these "first edition" UINs are prime targets for every (pre-)pubescent look-at-me-I'm-a-MaStUr(bating)-HaXoR on the net. Since the original owners of six digit UINs have been on the net for a few years, most are wise to these lame-o attempts to steal their passwords, but the ploys are amusing just the same. Take our faithful "administration ICQ" above, after the first pathetic attempt at sounding official (and apparently having his account shutdown), he got a new UIN under the name "System UIN" (not to be confused with a real ICQ system message coming from UIN #1). As long as school is out and his mommy doesn't know that he's trying to commit computer fraud, he'll probably continue to sign-up for new accounts while the old ones get shutdown. Do I even have to tell you what will happen if you "send twice your icq password" to this moron? It will be "filtered" right into his collection and you'll never get it back... unless you want to buy it back on eBay (ranging in price from 55 cents to $150, though I hear they are banning these "items" since they are almost always stolen property). Too bad they don't sell "clues" on eBay, I'd like to auction-off a few for the creeps who think stealing UINs is KeWl. (R116)




ICQ Rumor #115

Systemþþþsupport@icq.comþþþBROADCAST MESSAGE:

We are tuning up our network. Reorganisation can take a few days. While this time domain name "icq.mirabilis.com" will remain disabled. To continue using your ICQ, please, change default server for your client. In "Preferences" choose "Servers" and set "212.46.200.36" as Address and "4000" as Port. Move you newly created server to the top of the list and click "OK". Reconnect your ICQ client.

When we are done we'll notify you and will tell you our new domain name. Thank You.


Ouch, I hope none of you have followed these instructions, because if you did your ICQ password may not work the next time you attempt to log-in. Here's the way this trick works: 212.46.200.36 is not an ICQ server, it traces to ip-1258.dialup.cl.spb.ru... that's a dial-up account in Russia where in all likelihood a hacker is (or was) running software that pretended to be an ICQ server. Normally when your ICQ client (that's the software you run on your computer) makes contact with a real ICQ server it sends your password so you can receive your messages and broadcast your presence on the ICQ network. But the fake server records your password, after which Ivan (in this case) logs into your account and changes the password along with the rest of your info. In other words, he hijacks your ICQ account. At that point he can pretend to be you and try to trick your friends into adding his server IP to their list and steal their accounts. There is no reason for you to ever add a new server to your ICQ configuration, it will not help improve your connection.

So, what if you already lost your account, how can you get it back? I get asked that a lot, unfortunately the answer is "probably nothing, it's gone and you can't get it back." You could try writing to abuse@icq.com but don't get your hopes up, there are millions of people using ICQ and being a free service, not many people to check into all the reports of hijacked UINs. What I would suggest doing is IMMEDIATELY sign-up for a new account, add all your contacts from the hijacked account and warn them that any messages sent from the old account are NOT coming from you and they should NOT add any servers to their list. It would probably even be a good idea for them to add the hijacked UIN to their Ignore List (see the Security & Privacy menu to do this). Beyond that all I can say is BE CAREFUL! Read the ICQ Hazards page for more tips on what to look out for. This is just one of the many ways that you can lose your ICQ account... or worse. (R115)




ICQ Rumor #114

To address a new U.S. law aimed at protecting children's privacy, we can no longer permit children under age 13 to use the ICQ service. Your profile currently shows your age as under 13. If this information is inaccurate, please update it within 48 hours or we will close your account. If you are under 13, you may open an account only after your 13th birthday. We regret any inconvenience.


This certainly sounds like a hoax, but turns out the message really is from ICQ (it comes as a System Message from UIN #1). The US Federal Trade Commission established new rules as part of the 1998 Children's Online Privacy Protection Act (COPA) that went into effect starting April 21, 2000. COPA requires website operators to obtain a parent's permission before collecting information from a child under the age of 13. The intention is to protect kids from unscrupulous webmasters who create sites to lure kids, collect info about them and then sell it to third party marketers. That's a noble goal but the wording of the Act is so broad that it places webmasters in a difficult position. We can't "check IDs at the door" and obtaining and verifying a parent's permission can pose a logistical nightmare. The easiest way around COPA is to simply restrict access or membership to kids 13 and over. This is the approach the legal beagles at ICQ Inc. apparently advised. If a user's ICQ profile doesn't indicate that they are 13 or older, then they get the above message... sometimes. I don't have a DOB entered in one of my accounts and I haven't received the warning, but if I did I would update my profile to indicate that I'm over the age of 12. I haven't heard from anyone whose account was closed as a result of not changing their DOB within 48 hours, but unlike the false "forward or die" hoaxes, I would take this one seriously. (R114)




ICQ Rumor #113

URL: Forward this to everyone on your list and your ICQ flower will turn into a marijuana leaf!
URL Description: it really works guys!


Like, far out, man... if you see your ICQ flower turn into a marijuana leaf then you probably already have a few of those laying around. In fact, if you even think this will happen then it's time to put the bong away and come back to Earth. Can you dig it, mon? 'Ear... pass this instead next time. *g* (R113)




ICQ Rumor #112

URL: www.mirabillis.com
URL's Description: send this to everyone on your list and your flower will turn blue. ICQ is checking 4 blank accounts


Don't hold your breath waiting for this to happen or your face may turn blue... or perhaps red when your friends with a clue write back to say that ICQ doesn't check "4 blank accounts." I tell ya, some days I think there really are some "blank accounts" out there, if you catch my meaning. *nudge-nudge* (R112)




ICQ Rumor #111

URL: Glow in the dark ICQ!!url!!
URL's Description: just forward this to everyone on your list, including me and icq will glow. It looks awesome!


Actually, there is a way to make your ICQ panel "glow," but forwarding a message isn't the way to do it. The secret is to run a program called ICQ Plus then install a Glow Skin. Some of the other skinz really are awesome. One warning though, a while back I tried ICQ Plus and it worked fine until I tried to switch to a different UIN, it froze ICQ every time and the only cure was uninstalling ICQ Plus. Caveat Emptor. (R111)




Next Up...
Want to know a secret? Are "they" out to get you? Do ICQ hackers listen in on your phone line while watching TV? Can you handle the TRUTH??? It's out there alright... WAY out there.




Click here to continue...





If you would like to link to this site you welcome to
use any of the link banners on the main ICQ Lies page.


You may e-mail me at
webmaster@diamond-back.com
(Please don't send ICQ authorization requests.)

Or tell the world what you think of ICQ Lies by
Signing my Guestbook
(The Last Word)

Subscribe (or Unsubscribe) to the
ICQ Lies Update Newsletter
If you would like to receive occasional updates
about the latest rumors floating around on ICQ,
enter your e-mail address in the box and press
Send. All info will be kept confidential.
(Click here to view our privacy statement.) ICQ Lies Copyright ©1997-2002
Thomas Robert Pasawicz aka DiamondBack
All Rights Reserved
http://diamond-back.com